»Luftflotte Süd« magazine, 7 May1944
A fighter pilot's bold feat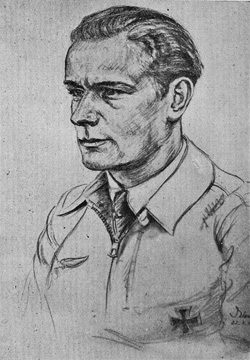 Leutnant Lemke tells how, after three victories on one day, he was shot down, swam to safety and still brought home a prisoner.
At 07.00 in a cloudless blue sky, I shot down my twenty-first, a Spitfire which had sought to rake over the coast road. On fire, the machine turned out over the sea and the American bailed out. I'm scarcely back on the ground when there's another scramble: five Spitfires were out to help their pal. I found the formation straightaway, put myself upsun and got into a good firing position above and astern. I shoot the twenty-second out of the formation, immediately gain height and—before the others can properly grasp what's happening—the one on the outside left is going down, the twenty-third.
Brazenly, I pass through the formation, plan to pull away but then they have me. One of them pulls out in front of me, me following out over the sea. I push the buttons, breathe down the Tommy's neck. The Spitfire is pulling a smoke trail, I establish hits in the engine and port wing. I look around me and I have the last two Spitfires on my back. My engine splutters, I see flames, I see tracer to the left and right of me. But I doggedly stay with the wounded Spitfire and think to myself, "Who'll go down first, him or you?"
I'm a Pommeranian, thick-skulled, press the buttons again and again until the twenty-fourth crashes.
I'm losing height and speed, the bulls behind me don't quit. At about 100 m altitude and, by my estimate, 20 km off the coast they're on me.
I've been downed four times after scoring victories. Made four clean belly landings. But this time? Over the sea?
I no longer had much time to deliberate, suddenly the cockpit was black with smoke so canopy jettisoned, stick pressed. The burning plane pulled up again and I bailed out …
A delicate situation, vicious sea-state. The parachute opens just about the water, about 10 m I'd estimate. So then right into the drink. I had trouble catching the dinghy and more trouble opening the compressed air tank.
At first I have to let myself drift. What should I do? Wait for my mates who'll be searching for me? Two machines came alright but they didn't find me: the waves were too high and the dinghy too small. First of all, I pull off my fur-lined boots and jacket which were now a hindrance. I'm not afraid of the sea, just the cold water. So I took a deep breath and slid into the water, the dinghy's line between my teeth, drift anchor and gear in the rubber bladder, and off I go.
A Godforsaken feeling for anyone in his right mind, I can tell you. When I was no longer getting anywhere, I hung on to the ropes round the dinghy, I couldn't get back on board. It was five hours before my lungs settled down. So I started counting. By the time I got to 18,500 that didn't work anymore. I thought, "If you keep counting just another five minutes you'll go soft in the head" so swim on without counting. Calmed down, I held tight to the boat and set off again. All at once I noticed that my arms and legs were getting heavy. "Mate", I thought to myself, "keep your mind on the job". I lift an arm out of the water but it had no feeling in it. I told myself, "move your arm" — it still worked, I said to my finger, "bend"—it bent. So, I felt lighter again. "The Lord helps those who help themselves". I don't know how I came up with that, a childhood memory. I recited it over and over and so it was that I swam.
After six hours I'd approached to within about 5 km of the coast. All at once I heard shouting ahead of me and to the left; as I hung on a wave crest I saw a dinghy a kilometre away with someone sitting in it calling and waving. I considered for a moment whether I still had the strength to swim across but then my remaining rationality won out. My thought was, "In an hour you'll be on the beach. I'd miscalculated and had to swim another two hours.
Look at me, I'm strong as a bull. The surf tossed me around, once putting my head under, turned me over, then rolling again on to all fours, but scarcely on my feet. You do the craziest things in a situation like that. Holding fast only to my jacket and boots, I tried over and over to persuade myself, and just didn't know why. In any event, I clung on desperately to my clobber. the final wave through me on to the beach like a wet sack. There was no question of standing up, I kept collapsing and simply lay there, I don't know for how long. All at once I heard footsteps and German voices. two infantrymen came running from the beach. "No", I thought, "you shouldn't meet them like this", gave another jerk, drew my legs under my body, pressed my arms into the sand and took three deep breaths. There I stood.
Three hundred metres to one side there was a fishing boat. The Italian thought, "he's given up the ghost" until I started talking. But he was unwilling, "the sea's too rough" he said, so I sat myself in the boat—that was my state of mind—started rowing and he climbed aboard. We rowed like men possessed, 5 km out to sea again and back. Who do you think the other man was? My twenty-first, a Tommy waving frantically: "Help me, help me!" There the bloke sat, safe in his dinghy, spray cover up. He'd already polished of his emergency ration and was waiting.
I asked him afterwards why he hadn't tried to save himself as I had. He fell silent and looked embarrassed. Look, that's the way it always is down here: for the other side the war is rose-tinted, they can't be serious even when it's their own lives at stake. But us, we bounce back in spite of their superiority, because we're harder, because we know more and because we don't let things get us down.
Text by War Correspondent Albrecht from Ltn. Lemke's oral account.