By 9 September 1944, General Max von Pohl had become concerned to improvise some defence for his principal airfields—including NSG 9's bases at Cavriago II, Palata Pepole and Vigatto—against Italian partisans. By the following afternoon, the Allies had decoded his signal:
XL 9706
ZZ
ON NINTH GAFCIT REQUESTED UNSPECIFIED MILITARY AUTHORITY THAT UNITS WITHDRAWN NORTH OF APPENINES SHOULD OCCUPY ALSO ENVIRONS OF HIS AIRFIELDS. DEFENCE OF THESE AIRFIELDS AGAINST GUERILLAS IMPERILLED BY SURRENDER OF CERTAIN GAF GROUND STAFF. PRINCIPAL AIRFIELDS PIACENZA, BOLOGNA, CAVRIAGO SECOND (WEST OF REGGIO), VIGATTO (SOUTH OF PARMA), AIRASCA AND PALATA PEPOLI (NORTH OF BOLOGNA).
COMMENT (ABLE) FIRST MENTION PALATA PEPOLI (BAKER) OMISSION OF POGGIO RENATICO SUGGESTS TWO NAG ONE ONE MAY HAVE MOVED.
101658Z/9/44
Note: this was the first the Allies had heard of Palata although 3./NSG 9 had already been operating from there for two weeks.
NSG 9's attack on Rimini aerodrome was more destructive than I realised when writing Ghost Bombers. Nine men were killed by multiple bomb wounds; one died next day from a chest wound; two suffered "dangerous" wounds; eight were seriously wounded; and fiver were slightly wounded
Although I had used the No. 241 Squadron Operations Record Book as a source for other incidents, I completely overlooked the pages dealing with this attack. It was Enzo Lanconelli and Daniele Celli who brought them to my attention.
INCOMING MESSAGE

HEADQUARTERS MEDITERRANEAN ALLIED AIR FORCE

MSG. CTR. NO.

91009

DATE:

1/10/44

(For file use)

PRECEDENCE

IMMEDIATE

SECURITY:

CONFIDENTIAL

TO:

MAAF

FROM:

MATAF

WHEN ANSWERING CITE

TWABI 781

RIMINI AERODROME ATTACKED ON 30 SEPTEMBER 1915 HOURS BY ESTIMATED 10 JU87 STRAFING AND DROPPING 50 10 KILOGRAM AP BOMBS OF WHICH 8 EXPLODED. DAMAGE CAUSED TO INSTALLATIONS WAS NEGLIGIBLE, NO DAMAGE TO AIRCRAFT BUT 10 PERSONNEL KILLED AND 15 WOUNDED. NO CLAIMS. BOMBING IN BRIGHT MOONLIGHT ENEMY AIR RAID SIGNAL.

TOO 011923A

FLS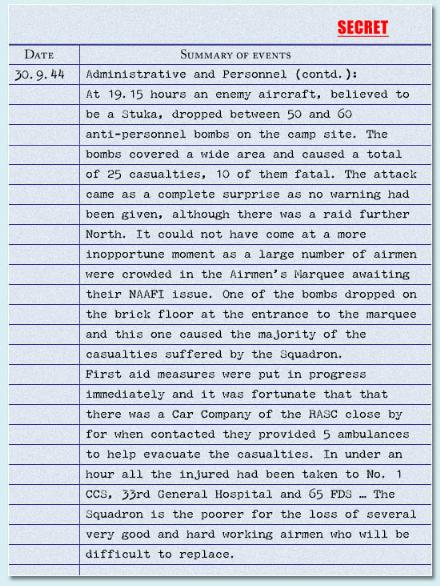 continued on next page …