Proserpina-Tergestea convoy passed Derna at 0430, 26th.
(Decrypt issued at 0930 hrs., 26 October. Priority: Emergency)
All of the night's escorting aircraft appear to have landed in Africa but their efforts proved in vain for on the 26th Proserpina and an escorting destroyer were spotted (somewhat apart from the remainder of the convoy) around 40 km NW of Tobruk by P/O Ralph Manning (Canadian) in a Beaufort of No. 47 Squadron RAF. Despite heavy Flak, he succeeded in torpedoing the tanker:
I … approached … at a 45º angle from abeam and, at 700 yards' [640 m] range, I pressed the release button and saw the torpedo streak toward the target. At that moment, one of the Bisleys dropped a delayed-action bomb on the ship, then pulled up sharply, a second too late. Its port wing struck the vessel's foremast, which sheared the wing off just as the second Bisley came in to attack. Up in the nose of our aircraft my navigator, [Sgt.] Norm Spark, captured the moment on his camera for posterity but it looked like our attack had been a dud—the torpedo had failed to explode.
What with bombs exploding, Flak all over the bloody place, and aircraft diving in all directions, I wanted to get the hell out of there. Just then Nimerovsky [rear gunner] yelled over the intercom: 'We did it! Wow! She's going up in flame and smoke!'
No. 15 Squadron SAAF likewise felt that success was theirs, a DFC being awarded to Maj. Douglas Pidsley (flying the second Bisley) who:
… led a formation of aircraft detailed to make a low level attack on an enemy supply convoy off Tobruk. In the face of intense anti-aircraft fire Major Pidsley gallantly pressed home that attack at mast height. He secured a direct hit on the stern of a tanker causing a fire which destroyed the ship. Although his aircraft received severe damage [he] flew it to base safely.
The Italian naval commander in Tobruk made a "most immediate" signal to Rome:
Convoy "TT" has been attacked by numerous bombers and torpedo bomber aircraft in Small Square 16/45. Tanker Proserpina is in flames.
By 1700 GMT the Luftwaffe was reporting that Proserpina was on fire from stem to stern and that a fire float was on its way; efforts would be made to tow the tanker in but she was likely to be total loss. Lieutenant Edward Dustow's Bisley of No. 15 Sqn. SAAF struck a mast during its bomb run and crashed into the sea with the deaths of its crew. The intense heat coming off Prosperpina prevented an RAF night attack but she finally sank at 0445 hours on 27 October. Late the previous night, the Italian authorities at Tobruk had given this account to Rome:
Survivors from Proserpina state that the convoy was attacked … by bombers which came in several waves. She was hit forward, heavy if not severe damage being caused. Later … she was attacked by torpedo bombers and hit aft and amidships. An aerial torpedo fell on the deck. The fire immediately spread throughout the entire ship and it was impossible to save her. One torpedo bomber was shot down, crashing against the foremast. Crew saved. Up to now one army machine-gunner and one civilian are missing. There are some severely wounded and bruised. The wreck of the ship is still drifting and in flames.
The aircraft "crashing on deck" may refer to a Bisley which hit the mast of the Dora in the main body of the convoy, Lt. Groch (pilot) and Sgt. Twigg (gunner) surviving the impact. Naval Command Libya paid this tribute to the Allied airmen:
Yesterday and today [26 October] all our convoys of steamships and landing-craft have been attacked. against the the more important ships the enemy has employed entire formations of up to 22 aircraft, according to some observers, and he has persisted in repeating the attacks until he has attained his goal, operating with extreme determination. Even in the immediate neighbourhood of Tobruk, our air defences, even when numerous, have proved insufficient.
NOTES: Two Ju 88 of I./LG 1, one of them flown by Ltn. Benno Farkac, were among the assigned escorts that day, their initial experiences mirroring those of the RAF strike force: nothing was found in the briefed position, only a group of coastal lighters encountered soon after. Following a formation of British bombers westward however, they saw the convoy off Tobruk, witnessing the attack which set the tanker ablaze.
Later it emerged that only two men had been saved, German ratings from the crew of the forward machine gun, both seriously injured.
A month later German audiences were able to see vivid film of the attack on the main convoy, as part of the Deutsche Wochenschau newsreel.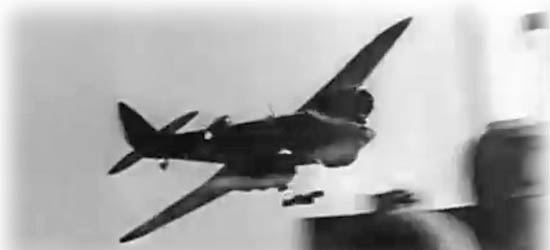 Tergestea was torpedoed by three aircraft off Tobruk, "in deep twilight" and foundered within 2 km of the harbour entrance. She had carried 1042 tonnes of munitions. The navy bemoaned the lack of fighter escort for the two ships and their "irreplaceable" cargoes, opining that in broad daylight and so close to shore, fighter escort must certainly have saved them. Again, the Italian authorities in Tobruk signalled to Rome:
Convoy "TT" was attacked by one or more torpedo aircraft while entering harbour. SS Tergestea blew up. I will send further news.
Later it emerged that only two men had been saved, German ratings from the crew of the forward machine gun, both seriously injured.. A North African ground station was to jam British radars on the night of the 26/27th to cover a convoy and RCM aircraft (number unknown) were also due to operate. Sgt. Backhouse's of 221 Sqn. noted "S.I. interference most at Derna" and F/O Frame reported jamming when operating about 85 km NW of the port. The next night, a single Heinkel jammer operated. Another tanker, Luisiano, was underway to Africa on the 26th, flying a barrage balloon for defence; Fliegerkorps II was to have one bomber continuously over the convoy in addition to a "jamming operation" (whether air-, sea- or ground-based was not stated). On the night of 28 October, Luisiano was to be protected by two of Kdo. Koch's Heinkels and similar cover was assigned to the auxiliary cruiser Barletta the following night, along with a Ju 88 from LG 1.
The struggle for supremacy in the Mediterranean has reached its height. The Luftwaffe is playing a decisive part in this struggle. The aim of supplying the Panzer Army and the Luftwaffe in Africa must be achieved. It is a matter of honour for each man of my Luftflotte … I expect that each will do his duty to the limit.
Ob. Süd order of the day , 29 October 1942
The position had become so serious that Field Marshal Kesselring cancelled all Luftwaffe leave in his sphere of command as of the 29th and ordered that personnel currently on leave be recalled. Two aircraft were again operating on the night of the 29/30th, in support of Barletta and tanker Potofino; one of these Heinkels was GJ+JH. These operations had been announced early that evening by the Italian navy:
From C-in-C Taranto: For convoy "M" on the night of 29/30 a German aircraft will carry out W/T interference and night fighter escort. The same convoy will be escorted by 6 Ju 88 and 4 Me 110 from dawn 30/10 to its arrival at destination.
For once this effort was acknowledged in the Seekriegsleitung diary: "Cover was flown for our convoys day and night and enemy radio traffic was jammed".
The Kommando reported a strength of 7 (3) aircraft on 30 October and was due to operate three Heinkels from 1740–0500 that night, covering the auxiliary cruiser Zara. Flight Sergeant Garven's Wellington tried to home on a contact SW of Crete "but severe jamming was experienced making this impossible". Two Heinkel jammers flew on the 31st, to protect the auxiliary cruiser Barletta and Alfredo convoys, the former machine assigned taking off at 1603 hours. A fourth He 111 was on anti-submarine patrol over the Aegean and the Antikythera Channel. For the cargo vessel Capo Orso, due to sail from Tripoli on 31 October, bound for Tobruk, and "additional German escort, above all night fighter escort [was] urgently desired if possible".
NOTE: Barletta would survive the RAF's efforts, only to be sunk in the Luftwaffe attack on Bari on 2 December 1942. Luisiano was torpedoed by aircraft and sunk, west of Cape Matapan, on 28 October.
continued on next page …